We use our slow cooker a lot, especially during the fall and winter months. I had a friend ask me for my recipes, and I decided if I'm going to make that list, I'd better make it here so I can find it again. I do make the basics: Pot roast, Whole chicken, etc. which are basically just meat and veggies and seasonings and are yummy standards, but I got bored of that and started collecting other recipes. All of these, except the last one, we have tried with great success.
So by request, here are my favorite oft-repeated slow cooker dinners:
First, from allrecipes.com :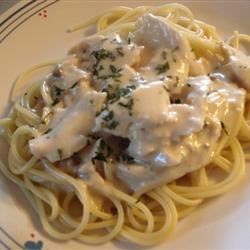 Italian Chicken Alfredo
I was surprised that my whole family loved this one-- I added some chopped Roma tomatoes and used fresh mushrooms last time and it was delicious!!
Vegetable Beef Soup
A good base recipe that you can vary or change. I prefer my Scrumptious Veggie Soup, which you COULD make in the slow cooker, though I haven't done that yet...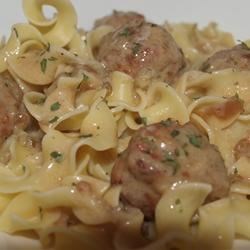 Meatballs & Noodles
This is one of my husband's favorite things I've ever made for him. He LOVES it. It is pricey because of buying meatballs, so you could make them from scratch first, but once in a while, I like to splurge and make this one for him.
TIP:
I buy minced garlic in jars (Costco or Winco) and use that instead of mincing my own. Fresh may be fancier, but this is SO much faster and tastes fantastic to me! We use garlic in nearly everything...

White Bean Chili- toss everything in and heat on low all day or on high for 3-4 hours:
1 medium onion, chopped
2 cloves garlic, minced
4 boneless skinless chicken breast halves, chopped
2 cans (14 ounces each) chicken broth
2 cans (4 ounces) chopped green chilies
3 TB lime juice
2 teaspoons ground cumin
1-1/2 teaspoons chili powder
2 cans (14-1/2 ounces each) white beans
Salt, black pepper and cayenne pepper to taste
Serve with tortilla chips (for dipping or laid in the bowl beneath), sour cream and cheese. Vary the ingredients according to your family's tastes.
Slow Cooker Shepherd's Pie-Perfect for winter!! We have a large family, so we usually double this:
3 med. russet potatoes
salt, pepper, garlic to taste
1 pound ground beef
1 chopped onion
1 can cream of mushroom soup
1 beef bouillon cube
2 cans french cut green beans, drained
shredded cheddar cheese for topping
Spray pot with cooking spray. Wash and chop potatoes, leaving skin on (chop them small- about bite size). Layer them on the bottom of the pot. Season with salt, pepper and garlic. Brown the ground beef with the onion, drain the fat and put on top of potatoes. Mix soup, bouillon and beans together, layer on top of meat. Cook on high for 3 hours, stirring a few times. Then, turn to low and sprinkle cheese on top. Cook for about 30 minutes, then serve.
Chicken Noodle Soup- I basically throw together various amounts of the following, let it cook all day on low, and then 1/2 hour before serving, throw in a couple handfuls of egg noodles, turn on high for that 1/2 hour, then serve.
2-4 chicken breasts, chopped
2-3 celery stalks, chopped
1 onion, chopped
2-4 carrots, chopped
3-4 cans of chicken broth (or homemade broth, which is FAR superior-- especially turkey broth from Thanksgiving!)
garlic salt
black pepper
1 bay leaf (remove when serving)
egg noodles
TIP:
For best results, a slow cooker should be between half and two thirds full.
Beef Stew- This is my favorite winter recipe. Macey's puts their London Broils on sale pretty regularly, so when they do I buy a bunch and freeze the extras.
3+ pound London Broil- ask the butcher to chop it into stew meat for you before buying
1/4 cup flour
1 pkg. beef stew seasoning
1 tsp. salt
1 tsp. pepper
2-3 cloves garlic
2 bay leaves
1 tsp paprika
2 tsp Worchestershire sauce
1 chopped onion
3-4 diced potatoes
4 sliced carrots
1-2 celery stalks, chopped
3-4 cans beef broth (more if needed)
Place meat in slow cooker. In a bowl, mix together: flour, seasoning, salt, pepper. Pour over meat, then stir to coat meat with mixture. Add all other ingredients, stir.

Cook on low for 10-12 hours or high 4-6 hours.
P.S. I know other people like peas in their stew, so if you want to ruin a perfectly wonderful pot of goodness, add them.
Beef Fajitas-
2-3 lb. London Broil, sliced thin (ask the butcher to do this for you before buying)
1 each red, green and yellow bell peppers, thinly sliced
1 onion, thinly sliced
put all in the pot, add:
1 can diced tomatoes
cumin
red pepper flakes
chili powder
kosher salt and black pepper
Cook on low 8-10 hours or high 4-5. Then stir well, serve on tortillas with cheese, sour cream etc.
TIP:
Did you know you can cook meat from frozen in the slow cooker? It's a lifesaver for those of us who forget to pre-thaw things. I do this for many recipes that have no prior prep work required.
Mexican Pork-
Put a good sized whole pork roast (or two smaller roasts) in the pot, cover with 2-3 cans of diced green chiles, a generous sprinkle of the following: cumin, chili powder, black pepper, garlic salt, onion powder and lime juice (optional). Add about 1/4 cup water to the bottom Cook all day (7-9 hours) on low, shred up, let sit for a bit to absorb some of the liquid. Serve either in tortillas with cheese or over nacho chips with all the fixin's! I like to make enough to last many days.
Pulled Pork Sandwiches-
Again, use a good size roast or two smaller roasts. Put in the pot and cover with one can of beef broth. Cook on low all day. Shred up the meat, transfer to a cast-iron skillet or dutch oven, pour a bottle of your favorite bbq sauce over (or homemade if you're that ambitious), put in the oven on 350 about 30 minutes, or until hot and bubbly. (You can forego the last step and just mix it in the slow cooker to reduce pans to wash and for one less step. I like to do that last step, though-- I think it adds a little something...)
Rosemary Chicken-
(I ALWAYS double the sauce and add extra seasonings to taste.)
4-6 chicken breasts (lay in crock pot), mix everything else together in a bowl and pour over the chicken:
1 can cream of chicken soup
1 can cream of mushroom soup
1 pkg. onion soup mix (optional)
to taste:

granulated garlic (or use garlic salt and omit kosher salt)
black pepper
Cook all day- 6-8 hours on low. Serve over cooked egg noodles, white rice, or mashed potatoes
TIP:
Resist the urge to "peek" or to stir. Most slow-cooked meals do not require stirring and it takes 15-20 minutes to get back to temperature after you open it.
4 chicken breasts, ½ cup water, 1 pkg spaghetti sauce mix.

Low all day, then 1/2 hour before serving, add 1 can cream of chicken soup and 1 pkg. cream cheese, crank up to high for 1/2 hour.

Serve over rice or noodles.
(I have not tried this one, but it comes from a trusted source:)
Cook chicken on High for 3 to 3 1/2 hrs. Or on low for 6 hrs. Take it out and shred. Dump out all the juice and fat left in the bottom of crock-pot. Add chicken back to crock-pot and add salsa. Cook until warm and serve on taco shells. Serve with favorite taco sides: Cheese, sour cream, tomatoes, olives etc.